It's so deeply hurtful when you are asked to do something, but there's no real physical support for or willingness to support that activity at all. Of course, I am thinking cycling and the government here. Promotion and encouragement is all we ever got. Gee thanks. Why not do something cycle-positive?
Such as.
Thanks for cycling
(Stockholm) handing out goodybags to cyclist. Just imagine, you are stopped and someone says "thank-you for using a bike today". Wouldn't that be great!
Do the right mix
(Europe-wide) tackling car-dependence and it not afraid to say so. Something UK initiatives consistently fail to do.
No ridiculous car trips
(Malmö) - just watch and be blown away by the simplicity and openness the subject of silly car trips is approached.
In the UK?
We do have people speaking up for cycling. Thanks to Jon Snow and Chris Boardman.
But otherwise? Non-car road users get patronised and even blamed by way of info initiatives. Local and national government are not 'afraid' to even do this to our children.
Ghost Street
(Newcastle) - award winning, they say. It must also be there fault that they get themselves killed.
Tales of the road
(UK-wide) - to scare them into parents cars, seems to be the only solution here.
Nice Way Code
(Scotland, please keep it there) - and when they
are
trying to be funny, you can be sure they get it seriously wrong. Sharing the road but not the risk. Well, think horse, must be the answer surely. Moreover, the bull-crap has been endorsed by CTC and Sustrans too.
Yes, aw, sure, being told we road users are so alike. DfT's Think! thingy - thinking that lumping together motoring and cycling does the trick. Only one in five drivers has on-road cycling experience. Anyone listening? Thought not.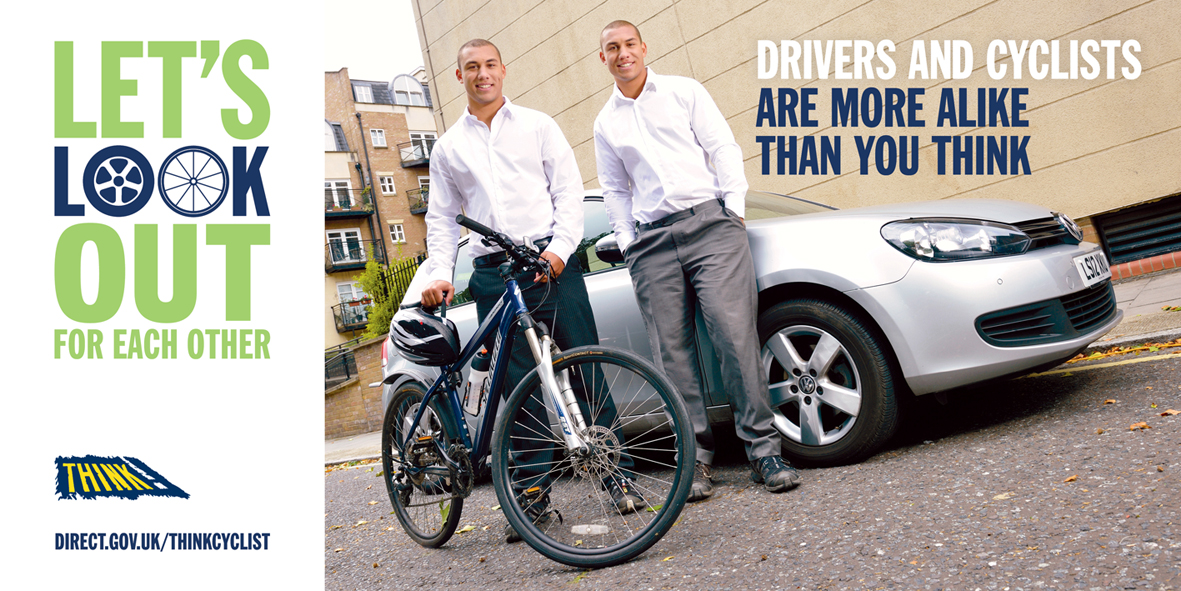 It appears as though our authorities can just not imagine life without a car. They are so besotted by it they are unable to tackle the real problem: curbing car use. And speaking proportionately
positively

about walking and cycling. Proportionate to risks and benefits.